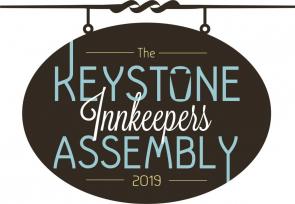 Due to the pandemic, PABBI will not be hosting the 2020 Keystone Innkeepers Assembly in November. The 2021 conference will be held on Nov. 8-10 at the Wyndham Garden in State College. To get an idea of the caliber of our conference that offers a variety of great educational sessions and expert speakers, you can view the 2019 conference agenda below. 
MONDAY, NOVEMBER 11
9:00am – 1:30pm                 
ServSafe Course – Additional Fee of $135/person
Joceyln Makin
Let your guests know that you are aware of good Food Safety Practices by posting a ServSafe Certificate in your facility. The last thing you want to mar your reputation is a Food Borne Illness Outbreak. Join us for a fun and informative 4 hour session of Food Safety, followed by the nationally recognized ServSafe Managers Examination.  Passing the exam will provide you with a 5 year Certificate. Information covered will be safe food storage, preparation and handling, required personal hygiene practices, cleaning and sanitizing and service. Books will be provided prior to the conference for independent study.
9:00am – 4:00pm                 
Aspiring Innkeeper Seminar
Marilyn Bushnell, Bushnell Services, Inc & Eliot Dalton, Inn Broker
There is no substitute for real life experiences! The Better Way to Learn Innkeeping™ will walk you through the "ins and outs" of buying and starting a bed breakfast…from the Dream to Settlement and beyond. Jumping into a bed and breakfast is a daunting task. With The B&B Team's combined knowledge and experience in acquisition, valuation, financing, staffing, innkeeping and hospitality you will be fully immersed in an intensely informative workshop that will be presented in a logical, step-by-step process and clarifying chronological order. If you are serious about investigating your dream, it is imperative to go into the business with your eyes open to those decisions that are important for a successful inn and a fulfilling personal experience.
4:00pm – 7:00pm
Tradeshow Marketplace Open
5:00pm – 7:00pm
Tea Party Reception in Tradeshow Marketplace
TUESDAY, NOVEMBER 12
7:00am – 8:15am
Buffet Breakfast & Opening Remarks
8:30am – 9:30am
Concurrent Sessions
Branding and Marketing Strategies for a Web First, Search-Driven, Mobile-Obessed World
Greg O'Loughlin, SWELL & Emily Baer, Pixel & Hammer
Aggressive competition and noise abounds in the modern marketing environment. This program will bring to life must-have and must-do branding and marketing strategies so your inn's website gets noticed first, clicked to first, and booked (direct) first.
Enhancing the B&B Experience: A Gardner's Perspective
Laura Stephenson, Innkeeper, Bed & Breakfast at the Rock Garden
A discussion of tips and ideas to create and improve the gardens and landscape appeal of your B&B with your guest in mind.
The Five-Star Experience: Elevating Guest Communications
E. Scot Fuller-Beatty, ThinkReservations
The guest communication landscape has changed. With over 80% of lodging reservations being made online, it is vital to have solid communication operations in place for your business to survive. New technology has enabled us to now have the ability to communicate with guests in a personal, yet often automated, manner. Join Scot, who is also the innkeeper/owner of The Chadwick Bed & Breakfast in Portland, Maine, as he teaches, step-by-step how you can start to implement the tools that will help your customers find you and keep coming back for more!
9:30am – 11:00am
Tradeshow Marketplace
11:00am – Noon
Concurrent Sessions
Search Engine Optimization (SEO) Practices to Drive Revenue
Greg O'Loughlin, SWELL & Emily Bear, Pixel & Hammer
Proper search engine optimization allows your market to find you online, but the rules change at a rapid pace. By using an authentic content-focused approach to your SEO strategy, you can ensure that your website is curated to connect you to your target market and get results. During this workshop, we will dive into the basics for authentic search engine optimization techniques that you can implement to improve your online presence without spending a ton of money. 
Your Inn on Instagram
Ellen Mattis, Hello Social Co.
Instagram is the top-used platform for businesses and organizations in the tourism industry. In this workshop, Hello Social Co. owner Ellen will talk about the importance of Instagram for innkeepers, help attendees set their social media goals and more. In the workshop, Ellen will go over the agency's Focus on Local Approach, a process proven to help businesses reach more of their customers by engaging with them on social media.
Breakfast – Less Waste & Less Stress
Laura DiLiello, Innkeeper, The Lafayette Inn
In today's world of special requests, dietary buzz-words and food fad of the moment, how do we keep our costs under control and our stress levels low while keeping our guests happy? Let's discuss some tips and tricks for designing menus, shopping, storing and preparing breakfast items. Minimize waste, shop smart, make ingredients multi-task! We'll also discuss the pros and cons of buffet and made-to-order options and share a few favorite recipes.
Noon – 1:45 pm
Lunch & Guest Speaker Linda Feltman
"B&B Tales: 27 years of Innkeeper Stories & Questions." Linda is an avid activist on behalf of PA B&Bs, attending conferences, talking with legislators, recognizing that the industry was growing exponentially and could help influence tourism in the state. By the late 80's, early 90's she had written three books on Pennsylvania's bed and breakfasts, had sat on the former B&B committee of the Pennsylvania Hotel Association, was a board member of what was then the Centre County Visitors and Convention Bureau and had in January 1992 published her first column for Pennsylvania magazine featuring Pennsylvania Bed and Breakfasts.
2:00pm – 3:00pm
Concurrent Sessions
Google Analytics Workshop: If you are in the dark about getting direct bookings, it's good to have a flashlight.
Cindy Bachmann, Innkeeper's Advantage
Discover how to get more direct bookings using Google Analytics.  Learn how to read and interpret the data and how to apply what you learn.  Gain proficiency in creating e-commerce goals, link tracking and more. Bring your computer and your Google Analytics account for this hands-on workshop.  
Going Green
Amanda Stultz, Sitronu & Michael Rivkin, The Parsonage B&B
Michael and Amanda will lead a group roundtable discussion about how to easily incorporate some "green" eco-friendly standards into your own bed and breakfast. The duo will launch the discussion with an outline of the Green Seal hotel and lodging standards and then talk specifics, including energy use, landscaping, food operators, packaging and ingredient choice of bath and cleaning amenities, and water recycling and conservation.
A Perfect Pairing for Local Flavor Collaboration: B&B/Inns and PA Wines
Jennifer Eckinger, Executive Director, PA Winery Association
Jennifer will speak about collaborating with local wineries and the opportunities of reaching out to your local agri/tourism community to provide a unique taste of the region for your guests.
3:00pm – 4:00pm
Break – Tradeshow Marketplace
4:00pm – 5:00pm
Concurrent Sessions
OTA's I love'em, I hate'em!
Michael Rivkin, The Parsonage B&B
OTA's are an inseparable part of the lodging industry today.  Like it or not, platforms like Booking.com and Expedia with their multitude of brands dominate on-line and mobile bookings world-wide.  They are often the first 'Go-To' source for hotel, vacation rental and B&B bookings.  And if managed properly, they can be an asset to Bed and Breakfasts.  This session will discuss yield-management tools of the industry to help you use the OTA's as one of your tools means it fills empty rooms, while controlling the fees associated.
2019 Direct Booking Conference Recap (webinar)
Lisa Kolb, Acorn Internet Services 
The #BookDirect movement is gaining steam - innkeepers, association organizations, and marketing companies are all involved in reaching potential guests with the benefits of booking direct. In this remote video conferencing session, Lisa Kolb will go over what she learned at the 2019 Direct Booking Conference in Miami.
Making a Great First "Digital Impression: Connecting with Your Guests through Video Marketing
Laura Schale, ProArts Media
As a Bed & Breakfast owner, you know how important it is to make a great first impression for your guests when they come to stay at your Inn. However, did you know that their first impression may have actually been made beforehand based on your online presence? An easy to navigate website, professional photography, and high quality video marketing are just as important as fluffing the pillows, dusting the decor, and weeding the gardens. Video is a powerful marketing tool, and this seminar will help you understand its value for your B&B and the unique ways you can use it to connect with and entice your guests to book direct!
5:30pm – 6:30pm
Wine Tasting at Mt. Nittany Winery (Additional Fee of $10)
6:30pm-8:30pm
Networking Dine Around
Get to know your fellow innkeepers by dining at one of several restaurants. Transportation will be provided. Dutch Treat. Sign up at the registration desk by Tuesday, Nov. 12 at Noon.
WEDNESDAY, NOVEMBER 13, 2019
7:30am – 9:00am
Breakfast & PABBI Annual Meeting
9:00am – 10:30am
Concurrent Sessions
ADA Compliance for your Property & Website
Sam Lillard, Attorney at Law, Fisher & Phillips LLP
Join us for this important discussion about ADA requirements and service animals for independent lodging properties. This session will cover what you need to know for both your physical property and your properties website. Learn how ADA and related laws can possibly affect your online presence in the future, how your property needs to be prepared, and how you can ensure you are providing the appropriate services, resources and information to disabled guests.
Payments Intelligence & Data Security Explained in Plain English
Wynn Salisch, Casablanca Ventures LLC
Credit card processing is confusing to almost everyone and data security's constantly emerging threats can feel a lot like playing an unending game of whack-a-mole. This session will finally explain, how payments flow through the system; the system's various participants; how rates and fees are set and how they can be reduced; what terms like PCI, EMV, encryption, and tokenization mean; how to better secure an inn's data infrastructure to prevent costly breaches; how to protect one's personal data in the wake of the Equifax breach; how to deal with the dangers of ransomware; and what attendees can do now to protect their business, customers, family and themselves from hackers, phishers, extortionists, and other cyber miscreants.
Email Marketing Quickstart
Terri Cole, Chickadee eMarketeing
Email Marketing; can't live with it, can't SURVIVE without it. We understand that kick starting your email marketing strategy can be a daunting task. It takes all of the things that small businesses and non-profits don't seem to have-- time, effort and budget. That's why Constant Contact is offering a workshop that is designed to assist you with finally taking the email marketing leap that you've wanted to make. Whether you are looking to switch from a competitor or you have never used email marketing before, we guarantee that by attending this session you will walk away with:
An understanding of email marketing best practices – like how to produce a great subject line, campaign design and layout tips/tricks and more
An understanding of the basics of creating mobile responsive emails that produce real results
Next steps in producing your email marketing strategy
An understanding of how Constant Contact software can help your business grow
10:30am – Noon
Break – Tradeshow Marketplace (closes at Noon)
Noon-1:30pm
Lunch & Guest Speaker (TBD)
1:30pm – 3:30pm
Get Your Business Online
Randi F. Penfi, Grow with Google
Explore Google My Business, a free tool for local businesses who want to connect with customers on Google Search and Maps. Learn how to create and/or update your listing, hide your address, and what's new. In this session Randi will show you how to:
Create or claim your Google My Business listing
Manage your business info across Google Search and Maps
Use Google My Business to connect with potential customers
3:30pm - Adjourn