You are here
Annual Educational Conference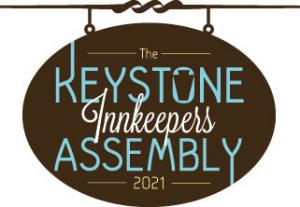 Nov. 8-10, 2021
Wyndham Garden, State College, PA
2020 ANNUAL MEMBERSHIP MEETING
Due to the pandemic, PABBI will not be hosting its annual educational conference in early November.
However, PABBI will be conducting the Annual Membership Meeting (virtually) on November 9, 2020 from 11:00am to 12:30pm. All members of PABBI will receive a meeting invite via zoom. Please mark your calendar! The annual meeting will include an update on PABBI's activities and election of officers.
If you are interested in serving on the Board of Directors, please complete the
Board Nomination Form
and mail to our Director. 
2019 Educational Conference
The Keystone Innkeepers Assembly hosted by the PA Association of Bed & Breakfast Inns on Nov. 11-13, 2019 at the Wyndham Garden in State College was a great success. The theme was T.E.A.* Time! 
* Steeped with a perfect blend of 
Technology tips and trends
Engagement with fellow innkeepers to elevate your business
Access to paths for more direct bookings
Over 100 innkeepers and aspiring innkeepers were in attendance. Click on the above icon "Full Program" to see the fantastic educational sessions that were offered. You can also view the list of vendors that were in the tradeshow marketplace and have renewed their PABBI membership for 2020. Below is a link to access the Touch Stay Conference app that has the presentations for those sessions that the speakers have shared with PABBI. 
For those not in attendance in 2019, you missed a very informative educational conference. We hope you will consider attending the educational conference planned for November 8-10,  2021 at the Wyndham Garden in State College, PA. Mark your calendars!