You are here
Annual Educational Conference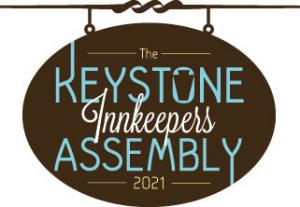 Nov. 15-16, 2021
Wyndham Garden, State College, PA
2021 Keystone Innkeepers Assembly
PABBI is hopeful that we will be able to hold an in-person annual educational conference on November 15-16, 2021 at the Wyndham Garden in State College. The conference will include concurrent educational sessions on the latest issues/topics impacting the B&B Industry. A decision will be made in July. 
If you are interested in being a sponsor or speaking at the conference, please call our Director at 717-525-7799. 
Educational Seminars - Getting Ready for Your Guests
PABBI is conducting a series of "Educational Webinars" virtually via zoom in March, April, and May. Typically these webinars would be "for members only;" however given the challenges our industry faced this past year, the Board of Directors decided to make the webinars available for all innkeepers. These virtual webinars are your opportunity to learn from industry experts on a variety of topics. It is our hope that you will find value in the webinars being offered and register to attend those that are of interest. We hope that you will consider becoming a member of PABBI if you are currently not a member. You can learn more about the benefits of membership at www.painns.com/membership. If you have questions about membership wor would like to join, please call our Director Rose Mape at 717-525-7799.
Below is the list of educational webinar dates and a link to register to attend or view the recorded presentation. You must pre-register to attend. Please take advantage of this opportunity to make 2021 a successful year. 
TUESDAY, MARCH 9 – 1:00pm
Marketing Trends of Near, Future & Beyond
Examining current and future trends (occupancy, REVPAR, etc.) and how innkeepers can adjust their on-line presence (websites, social media, etc.) to account for post-COVID-19 guest expectations.
Presenter: Travis Orton, ResNexus
THURSDAY MARCH 18 – 1:30pm
How to Attract Millennials to your B&B
Learn what the expectations are of millennial travelers from the booking process to the stay. Pam will offer some tips and suggestions on how to attract this type of traveler that have money to spend.
Presenter: Pam Dujmovich, Comphy
WEDNESDAY, MARCH 17 - 11:00am
Replacement Cost of the Dwelling for the Bed & Breakfast Owner
Michael Connolly, Director of Heist Insurances B&B Insurance Program will discuss replacement cost and coinsurance. He will also give mathematical examples and field questions.
Presenter: Michael Connolly, Heist Insurance
MONDAY, MARCH 22 – 11:00am
Remote Technology
While remote technology has been a trend for years in the lodging industry, COVID-19 has accelerated the implementation of technology for contactless guest check-ins. Cindy will discuss remote technical solutions that can help you update your property to offer the guest experience of the future. These technologies can increase guest satisfaction and your bottom line.
Cindy Bachmann, Innkeeper's Advantage
TUESDAY, MARCH 23 – 11:00am
Inn's and Outs of Bed & Breakfast Insurance
Insurance agent Justin Rose will discuss the importance of properly insuring your Bed & Breakfast as well as ways to reduce risks and cost.
Presenter: Justin Rose, Insurance Service United
TUESDAY, MARCH 30 – Noon
Get More Direct Guest Bookings
Customers report that Book it Now is easier and their occupancy is higher after switching from other online reservation systems. Guests can select accommodations by room or room type. The system is user-friendly and fast so more guest book online. Book it Now has been developed along with innkeepers so it has all the features your need to make your B&B more successful. Cindy will highlight the various features of this powerful online booking engine.
Presenter: Cindy Bachmann, Innkeeper's Advantage (presentation for members only)
WEDNESDAY, APRIL 7 – 11:00AM
Payments Intelligence & Data Security in 2021
Credit card processing is confusing to almost everyone and data security's constantly emerging threats can feel a lot like playing an unending game of whack-a-mole. This session will finally explain, in plain English, how payments flow through the system; the system's various participants; how rates and fees are set and how they can be reduced; what terms like PCI, EMV, encryption, and tokenization mean; how to better secure your data infrastructure in the wake of COVID-19 so as to protect costly breaches; how to protect one's personal data in the wake of breach after breach; how to deal with the dangers of ransomware; and what innkeepers can do now to protect their business, customers, family and themselves from hackers, phishers, extortionists, and other cyber miscreants.
Presenter: Wynn Salisch, Casablanca Ventures
TUESDAY, APRIL 13 – Noon
Current Trends in Hospitality Linens
This past year has been challenging and everyone had to change their cleaning protocols. Lorinda & John will share what the current trends are from triple sheeting to more washable coverlets to faster drying towels, and how mattress encasements and pillow protectors protect against COVID-19.
Presenter: Lorinda & John Taylor, InnStyle
MONDAY, APRIL 19 – 11:00am
How to stop (repetitive) guest questions
Hear from innkeepers across the country on how they effectively communicate important information that guests want, including local area recommendations and your sustainability efforts, as well as get insight on their learning curves on finding what works best for them.
Presenters: Tyann Marcink & Andy McNulty, Touch Stay