You are here
Annual Educational Conference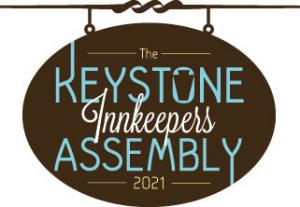 Nov. 14-16, 2022
Wyndham Garden, State College, PA
Educational Conference for Bed & Breakfast Owners
Mark Your Calendar
The 2022 Keystone Innkeepers Assembly will be held Nov. 14-16, 2022 at the Wyndham Garden in State College, PA. This year's theme is:
Innkeeping: It All Begins with I
Inclusive, Imaginative, Improving, Inspirational
Click on "Full Program" above to view this past year's session topics and speakers. New sessions and speakers will be offered at this year's conference.
A 4-hour ServSafe course will be offered on Monday, Nov. 14, 2022.  Time TBD and there will be an additional cost to attend this course.
A Day in the Life of an Innkeeper
Every year at the Annual Keystone Innkeepers Assembly, a seminar is held for Aspiring Innkeepers who are interested in learning the "ins and outs" of buying and starting a bed and breakfast. This year's seminar will be held on November 14, 2022 at the Wyndham Garden located at 310 Elks Club Road, Boalsburg, PA 16827 near State College. Check back for exact time and cost to attend this seminar.
There is no substitute for real life experience! A panel of seasoned innkeepers will walk you through "A Day in the Life of an Innkeeper - Aspiring, Perspiring, Retiring." With the panel's combined knowledge and experience in owning and operating a bed and breakfast, this seminar will cover: acquisition, financing, staffing, marketing, meal preparation, cleaning, and hospitality. You will be fully immersed in an intensely informative workshop that will be presented in a logical, step-by-step process.
If you are serious about investigating your passion to operate a bed and breakfast, it is imperative to go into the business with your eyes open to those decisions that are important for a successful and fulfilling personal experience.
If you have questions about the upcoming seminar, please call Rose Mape at 717-525-7799.