You are here
Educational Conference for Innkeepers & Aspiring Innkeepers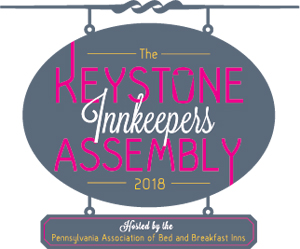 Nov. 5-8, 2018
Eden Resort
Lancaster, PA
Inn-gredients for Success
1 whole responsive website
2 cups of SEO
10 ounces of photos
1 tablespoon marketing
2 teaspoons of passion
Pinch of personality
Are you wondering how you can get more heads in beds? Join your fellow innkeepers at this year's conference where you'll learn the "Inn-gredients for Success" in generating more direct bookings. You'll find sessions on how to compete for mobile guests, food and menu planning, and more.
After the day's education, test your culinary skills against other innkeepers at the Kitch-INN Competition dinner. This is your opportunity to have fun while you work with your team to create an award-winning recipe. You'll want to wear your best apron or chef's hat.
Keynote Speakers
Don't miss the opportunity to hear John Moeller talk about his experience as one of the Chefs at the White House serving three Presidents and world leaders. Throughout his career, John has developed a signature style of cuisine, based on innovative menus that take advantage of fresh seasonal produce and creating first class presentation of the finished dish. A native of Lancaster County, John relocated back to Lancaster to start his own business and authored his first book Dining at the White House that has won three awards for best autobiography, best cookbook and best celebrity memoir.
John will be autographing his book (available for purchase) at the conference after his presentation on Wednesday, Nov. 7 at 9:00 am.
Chef Lisa Linton-Jaasund
Hear Chef Lisa speak about "How Safe is Your Kitchen" on Tuesday, Nov. 6, 2018 at 1:15 pm.  Every food preparation area contains hazards which can lead to food-borne illnesses. These contaminations can be easily avoided if you take the proper precautions. Learn some simple tips and tricks to keep your guests safe from physical, chemical and biological contaminants. Chef Lisa Linton-Jaasund is a certified ServSafe Instructor and exam proctor.  She has been educating culinary professionals about food safety for almost a decade. As a caterer, chef, cake decorator, culinary arts instructor, innkeeper and most recently as a hotel manager, her hospitality career spans over 20 years. She is a published cookbook author and has made several television appearances - including a segment on NBC's Today Show with the Food Network's Giada DeLaurentis, as well as a PBS Cooking Marathon. She pulls from her diverse experience to deliver an informative, engaging, and meaningful presentation.